Physics of Slinkies
I think almost everyone has seen a slinky "slink" down a flight of stairs. At the top of the stairs, the slinky has stored potential energy and won't move until someone acts on it. It's not until someone begins the slinky's movement does it begin to move, converting that potential energy into kinetic.
Each time the slinky falls from one step to another, more gravitational potential energy is changed to kinetic. But not only that, energy is transferred along the slinky in the firm of compressional waves which travel along the metal coils, causing it to stretch and compress.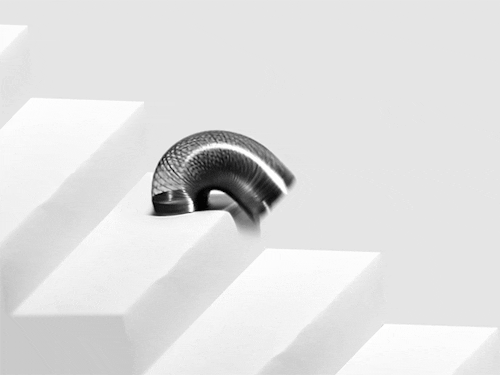 Of course, since it's in motion, the slinky also develops momentum. The horizontal component of the momentum is what keeps it traveling down the stairs; if the stairs were wider and the slinky couldn't reach the end, it would stop moving, but when it is carried over the edge of the stairs, more and more gravitational potential energy is converted to kinetic and the slinky keeps going until it reaches the bottom.