Vroom Vroom! Nascar and Physics
---
Although I'm not a nascar driver I know that those cars go extremely fast...I mean it doesn't take a rocket scientist to figure that one out.
The question is how do those cars maintain there outrageous velocity and still safely glide on the track? How is this even possible?
One simple word: physics.
Have you ever heard of friction? Well, if not, friction is the resistance that one surface or object encounters when moving over another.
In physics language friction is represented in equations and diagrams as Ff. Friction is a force. And as you remember Newtons third law; for every force there is an equal and opposite force. Therefore, the rational behind nascar driving is appropriate speed, weight, normal force and friction.
The car's weight or (Mg) in physics terms is pulling down on the car. If the car is moving to the right at a certain speed or velocity, the Ff is pulling the car in the opposite direction- or in this case to the left. Because the car is moving this type of friction is called "static friction." In other words objects that are sliding or moving.
On the front page of the Physics reference table you can find the coefficients of friction table. In this scenario you would focus on the rubber tires on concrete (dry) which would represent the track- this has a static friction of .90 and a kinetic friction of .68.
You can use the equation Ff=U/Fn to figure out either the Force of Friction, the coefficient of friction or the Normal force- depending on what you wanted to solve for.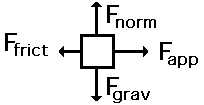 This free body diagram represents the nascar car on the track and the forces that apply.
Hope all you car lovers out there enjoyed this.
Here is a fun nascar/physics video that goes a little more in depth. Enjoy!