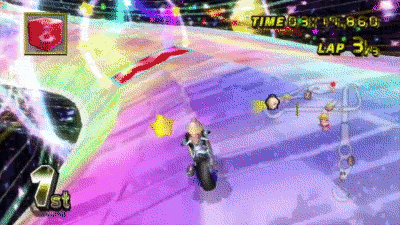 Mario Kart was (and still is) the greatest game of all time, and there is a surprising amount of physics involved – not the part about falling off the edge of rainbow road and then magically reappearing back on the track though.
Mario Kart uses Newton's laws. The use of Newton's first law proves why in order to get moving you have to press a button to accelerate, and when you let your finger off the button, you don't just automatically stop, you just slow down. Newton's second law shows how if you use a cart with a greater mass, you need a greater force to get the kart moving with the same acceleration.
Mario Kart also uses elastic and inelastic collisions. An elastic collision occurs when two karts run into each other. They both don't stick together following the collision, but they bounce away from each other. An inelastic collision occurs when two karts collide and the one with the thunder colt transfers to the other kart and now the thunder cloud is stuck to the other kart.
While Mario Kart is mostly fictional – with flying blue shells, mystery boxes, and magically coming back to life after falling off into vast darkness – there is still a lot of subtle physics involved.