APlusPhysics Chosen as a Finalist for Free Web Redesign!
---
We have some exciting news! The free APlusPhysics website has been selected as a finalist in a contest to receive a free professional site redesign, but we need your help! Voting for the contest finalists is open now through Dec. 20, and we need all the help we can get. As a member of the APlusPhysics community, any help you can provide by voting and/or spreading the word would be greatly appreciated.
You can vote by visiting the following link: https://www.facebook.com/LogoSnap/app_127709503932081
Thank you so much for your time and support. We're thrilled to continue bringing quality physics education materials to the public, and wish you and your families all the best this holiday season. Make it a great day!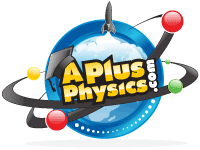 Sincerely,
Dan Fullerton