Snow, like it or hate it snow is a big part of the current landscape here in upstate New York. Although snow may seem like a luxury to others in warmer climates, the reality is that snow, a part from its appearance, makes everyday tasks 10 times harder and driving is one of the most common examples. A normal 20 minute journey can be made into an hour long ordeal with just an inch of snow. During these winter months 225,000 car crashes happen because of snow, so how can I be safe while driving in the snow?
Follow the signs. On every single exit there is a recommended speed for that turn which is determined by the radius of the turn.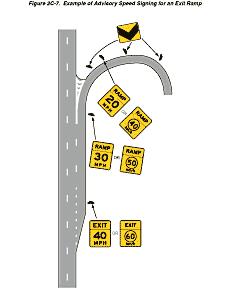 Its simple physics
which can be manipulated to be
with
r = radius of the curve
a = angle of the bank of the curve
So stay safe and follow those road signs.